I joined twitter last year as a sort-of experiment. My posts are mostly about science and cats, but feel free to connect over there, if that's your jam. I wanted to see what everyone loved about it (it works like a news feed, follow interesting people, learn interesting tidbits: all reasons I was told to get one), but I also chose to not tell anyone I had a twitter (remaining anonymous to the people I interacted with there was really interesting part of this experiment that pretty much has nothing to do with this post, so I'll save those thoughts for another time). Anyways, that's kind of a long intro as to why I saw this tweet from Bill Nye:
and I cheekily posted this one a few days later:
If you don't know how Quarterly works, basically they have someone recognizable 'curate' a box of things. You subscribe to that person's box for $50/quarter without knowing what will be inside, but trusting that if you like that person's style/taste/lifestyle you'll like what comes in the box. They keep it interactive by adding hashtags and such for the folk on Twitter.  #NYE01 signifies that is this the first Quarterly box curated by Bill Nye 🙂
To my great surprise, a gentleman from Quarterly reached out to me via Etsy the next day and was like 'yeah! we think you ties would be a great fit as well! How many can you make in a week?!' And just that fast, my elation plummeted. I don't usually stock enough fabric to be able to churn out a lot of items at once because the fabric is so pricy, so I thought it wouldn't be able to work with them, as I couldn't get enough fabric in time. Fortunately, I actually had two weeks to get them done, so one rush order of fabric later, I was busy making 40+ bow ties! Now, as Quarterly had ~1000 people subscribe to this box, there was no way I could make one for each box in that time frame. Instead, ties were randomly put into boxes as a surprise!
Neatly ironed bow ties waiting for their hook and eye closure
I have never made the same thing so many times before this project. I found I was able to cut way back on production time through an assembly-line like mentality (plus a little help from my Mom along the way – she rocks at trimming seams!) and lots of episodes of Numb3rs on Netflix. At the end of some long days, I put together a box of all the bow ties, shipped it off, and out they went into the world! I am also now an expert at tying bow ties when they are not around a neck.
So many bow ties!!!
If you're interested in getting a bow tie for yourself, click on over to my Etsy store, where I have a number prints available! 🙂 Here's my friend graciously modeling the bow tie: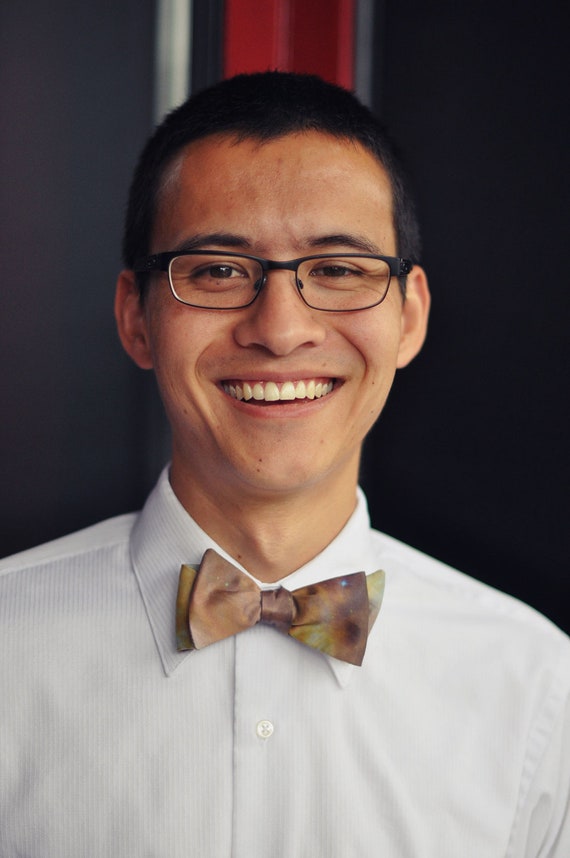 In the end, this was a whirlwind fun project, all made possible because of Twitter!